Room Dressing & Decoration
Making your function a little more special is what separates Saints Function Room from other venues. We go the extra mile to ensure you have a night to remember when you celebrate with us. Take the weight off your shoulders and let us take care of the room dressing and decorations.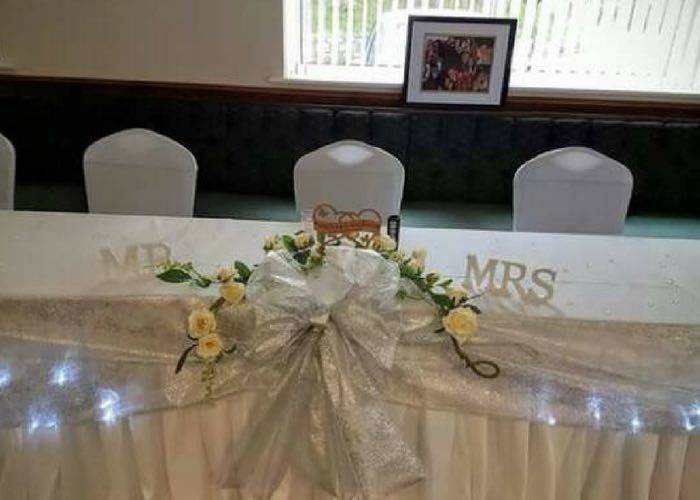 Table Decor
White chair covers with coloured bows                                   –          £2.00 per chair
White tale cloths with coloured organza runner table          –          £10.00 per
Mirror plates with tea lights& scatter crystals                        –          £5.00 per table
Top table organza swagging                                                      –          £20.00 per
Top table skirt                                                                              –          £25.00
Gold fish bowl centrepieces                                                      –          £10.00 each
Balloons
Clusters of 3 latex balloons                                                       –          £5.00 each
10 clusters of 3 latex balloons (Special offer)                         –          £45.00
Balloon archways                                                                        –          £20.00 (from)
Large personalised heart/star foils                                          –          £60.00
Printed decor bubbles                                                                –          £15.00 each
Standard decor bubble                                                              –          £10.00 each
Other balloon packages available                                            –          Prices upon request
Candy Cart / Ferris Wheel Hire
Add a little sweetness to you function with a beautifully decorated candy cart or ferris wheel it allow your guests to help themselves to a selection of sweets and treats.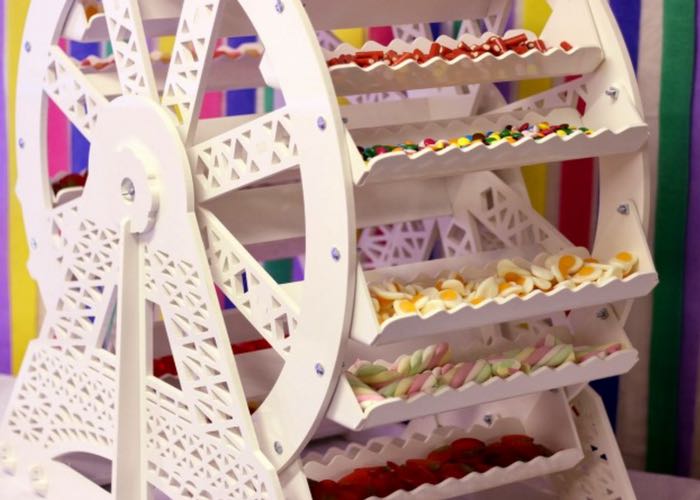 Candy Cart / Ferris Wheel
Candy cart with decor & 10 glass vases (approx 100 guests)  –          £175.00
Candy cart with 10 empty vases                                                   –          £100.00
Candy cart only                                                                                –          £75.00 per table
Smaller / larger packages available                                              –          Prices on request
Candy ferris wheel (approx 75 guests)                                        –          £125.00
Candy ferris wheel without sweets                                              –          £65.00
Pick n Mix tray (approx 40-50 guests)                                          –          £65.00
Sweet trees                                                                                       –          £20.00 (from)
Sweet cones                                                                                      –          £1.00 each
Chocolate bouquets                                                                        –          £15.00 (from)
Extras
Wishing well post box hire                                                              –          £30.00
Wedding wishes tree hire                                                               –          £25.00
DJ                                                                                                         –          £160.00 (from)